After winning a Beauty College Scholarship after graduating high school, it became clear that beauty had most certainly chosen Amy. Her Beauty Diploma completed, Amy entered the industry via 2 prestigiously located Ella Bache Salons in Victoria. It was here she developed her treatment and salon management knowledge.
However, it was whilst working amongst Australia's top wholesalers that Amy's found her true passion sparked – working with students, salons and beauty professionals alike, to guide and educate in treatments and product knowledge. Building close relationships with Distributors and Trainers gained Amy immense exposure and developed her confidence and devotion to teaching.
Now a Master Trainer for Elleebana and an International Level Lash Lift Judge, her passion for supporting female business owners, therapists, working mothers and entrepreneurs through knowledge and training continues and her ever-present belief that you are "forever learning" makes her an asset to every training situation. Having personally trained under Otto Mitter and some of the world leading eyelash educators, Amy is 3 times certified in Eyelash Extensions, Lash Lift, and Brow Enhancement Services and Certified IV Training and Assessor and is working with children certified under the Working with children Act 2005. Amy's expertise has seen her grace international stages as a Guest Speaker and facilitator at Beauty Conferences world-wide.
Amy holds nationally recognised qualifications in: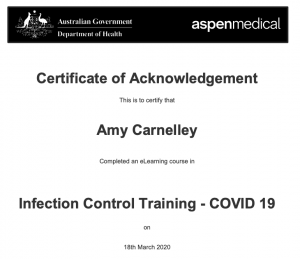 SHBBMUP001 Apply Eyelash Extensions
SHBBFAS001 Provide Lash and Brow Services
TAE40116 Certificate IV in Training and Assessment
Elleebana Certified Trainer Lash Extensions Certificate Number:  LE16302
Elleebana Certified Trainer Lash Lift Certificate Number: LL16302
Elleebana Certified Trainer Brow Henna Certificate Number: BH16302
Elleebana Certified Trainer Brow Lamination Certificate Number:
BLAM16302
Elleebana Certified Trainer Lash Lamination Certificate Number:
LLAM16302